We are happy that you chose to visit St. Philip's. Everyone is welcome at St. Philip's without exception. This is an inclusive community composed of individuals and families from many different backgrounds, faiths and otherwise. We welcome you regardless of where you may be on your spiritual journey.
The Mission of St. Philip's Episcopal Church:
"We are inspired to be a Christ-centered, inclusive Christian congregation. We value our historic traditions in expressing our love for Jesus Christ."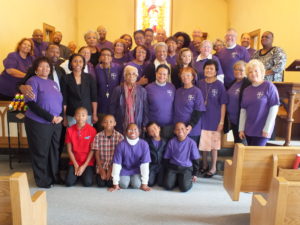 Worship Style
There are as many ways to worship God as there are people on earth. Each of us, in our own way, gives praise and thanks to God. The Episcopal Church is a liturgical church, meaning that the service is structured by readings from scripture that coincide with "seasons" of the church year. St. Philip's is a "formally informal" parish, meaning that we follow Episcopal traditions, but not in a "high church" format. By actively participating in the liturgy, hymns, and other traditions of our church, we find spiritual life as a body of Christ. We use the Holy Bible, the Book of Common Prayer, the 1982 Episcopal Hymnal and the Lift Every Voice and Sing African American hymnal to celebrate the good news of Jesus Christ. Our Holy Eucharist begins at 9 a.m. each Sunday.
How We Are Governed
St. Philip's Episcopal Church is governed broadly by the Diocese of Western Michigan, under the current Bishop, the Right Reverend Whayne Houghland, ninth bishop of Western Michigan. Diocesan offices are located in Kalamazoo. More narrowly, our parish is governed by an elected board of seven to nine lay persons, known as the Vestry, and headed by a Senior and Junior Warden. The Senior Warden represents the parish or the church in the absence of a rector, as is the case at this time. The supply priests that serve us are either retired or not presently "called" to other parishes. The Junior Warden is in charge of buildings and grounds.